We at Clusters to Wine will cater for companies and the opportunities for wine events are endless. This section of service is to provide a unique entertainment for businesses that wish to give a different concept or an extra touch to an event. Team building programs, press conferences and receptions or celebrations, these can be in or outdoor venues. Our flexible and professional corporate wine tasting and dinner services are open to your specific needs.
Our broad and in-depth experience gained in over twenty-seven years in hospitality service is the guarantee for your clients or colleagues.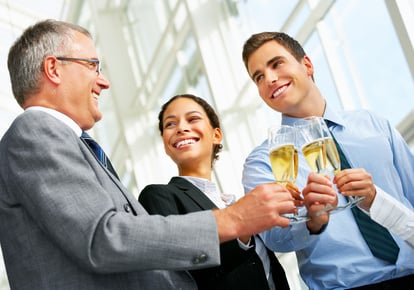 The benefits of choosing Clusters To Wine for your corporate wine event:
Wine tastings and training are desirable events. We conduct these in a formal or entertaining style for all to enjoy.
Existing functions that have been planed or booked can also gain from having a Sommelier's touch, making it an enjoyable experience for your clients.
There are no limits of minimum or maximum number of guests at any one function. We will cater to your specifications as you require.
If required we also provide a discreet VIP service for our clients and guests.
Select from an increasing portfolio of more than 16,000 wines from around the world, most of which can not be found in supermarkets or wine shops.
To give you a more traditional home flavour to your unique canapes we are able to source local products that come from the UK mainland. England is now able to showcase fine, award winning cheeses to which a paring of wine selection can be made available. Last minutes events are also welcomed. We can cater quickly and efficiently to your needs. It does require a more hands-on approach and this is where the "Can Do" attitude shows its strength.
What next? Call us on 07434 649 202 or email us for more information.